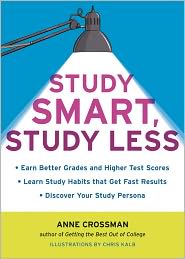 Publisher: Ten Speed Press
Age Group: High School/College - Nonfiction
Rating: 5/5
Source: Publisher
Reap the rewards of a higher GPA without sacrificing your sanity or your social life!

If "I studied all night and I still didn't ace the test" is your mantra, this witty study guide will help you pinpoint your personal learning style, prevent study mishaps, and work to your strengths. Using the best research on memory and the brain, Study Smart, Study Less offers easy techniques to help you:

• absorb info quickly
• remember it accurately
• create a successful study space
• put together a productive study group
• use interactive games to master tough material
• identify pitfalls—and avoid falling into them
• and stop overstudying (no—this isn't a typo)

By learning how to learn, you'll not only feel smarter, you'll be smarter.
This book is very very small, but it's filled with amazing information. I learned so mnay new study tips that I never knew existed and I will be using them in the upcoming school year and after that, in college. The way Anne wrote, was easy to understand and it was fun to read. This book is not text after text and long borning paragraphs with small letters. I would have put it down because my head would have begun hurting.
Anne had written bullet points and bullet points are way easier to remember than a long paragraph. This book also talks about different learning types. We all have our way of learning. I know I'm a visual learner and STUDY SMART, STUDY LESS shows you amazing ways to retain information without feeling as though you will never have a social life ever again.
This book is great for high schoolers or college students. It's filled with helpful information that is easy to remember. Highly reccommend this book.