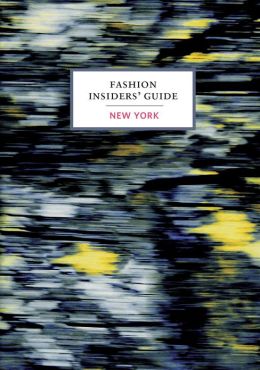 Publisher: Abrams
Rating: 4/5
Source: Publisher
T
he Fashion Insiders' Guides
are carefully curated compendiums of the current hotspots, classic haunts, and hidden gems of the world's greatest fashion destinations. A former Parisian living in New York, French
Vogue
correspondent Carole Sabas was often approached by friends and colleagues on their way to Paris for Fashion Week, looking for the best place for a quick facial, early morning yoga, or to meet a friend for a drink. So many people asked, in fact, that she produced a small guide filled with advice, which she gave out for free. Requests for more information and other cities came pouring in.
Abrams is now making Sabas's Paris and New York guides available to everyone, with expanded content including chapters such as "Eating and Drinking," "Beauty," "Health," "Shopping," "Art," and an eclectic selection of odds and ends called "Might Be Useful One Day." Written with a light touch and in a friendly tone, each entry includes a description of the recommended spots with hints about when to go, who to ask for, and what to get, as well as location and contact information. The inclusion of additional advice from local fashion celebrities on their favorite places to frequent puts readers confidently in-the-know. Peppered throughout with drawings by a noted and local fashion illustrator, these beautifully designed guides will be the must-have accessories of the season.
I was really excited to read this book. This isn't a novel, but a guide and even though I don't usually read guides, this one was great and a book everyone needs to carry with them when traveling or living in New York. I love New York and go there all the time and this book showed me so many places that I didn't really know existed. Now, who has time to run around the city to search for all these places? This guide tells you where to find amazing restaurants, thrift stores to get a great deal, manis and pedis, makeup artists and hair
dressers. And the other great part about this book is that it's small and can fit in your purse so you don't have to worry about carrying a huge book around with you.
The book is written is such a simple and easy fashion that you can read the entire book in under twenty minutes and have an idea where you want to go. If you're traveling to New York or live there and love fashion, get this book now because you're going to find a ton of gems that this city has in it.