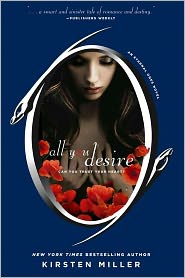 Publisher: Razorbill
Age Group: YA
Rating: 5/5
Source: Author
Haven Moore and Iain Morrow have been living a blissful life in Rome, an ocean way from the Ouroboros Society and its diabolical leader. But paradise is not to last. The mysterious disappearance of Haven's best friend, Beau, sends the pair running back to New York, where they encounter the Horae, an underground group of women who have spent centuries scheming to destroy Adam Rosier. Only they can help Haven uncover the secret to Beau's whereabouts in one of her past lives. But their help comes at a price: Haven must infiltrate the Ouroboros Society, charm Adam Rosier, and lure him into a trap. It's a plan the Horae believe will save the world-but Haven and Iain fear that it may destroy the happiness they've been chasing for two thousand years.
Four words. I. LOVED. THIS. BOOK!! This novel was a journey that I never wanted to end. There were so many emotions and fears I had while reading it and I just couldn't stop. Haven thinks she's having a great peaceful life, until she finds out Beau is missing and she and Iain go back to New York to find him. There, Haven meets Adam again and a love triangle forms and the romance sizzles.
I enjoyed THE ETERNAL ONES so much that I wondered how Kirsten Miller was going to be able to pull of ALL YOU DESIRE, but she surpasses my expectations. Kirsten Miller has shown she has a talent in writing and I was hooked from page one. And I have to admit, I was falling for Adam and even I couldn't contain my emotions.
This book was a movie and roller coaster for me. The writing was so vivid. But I do have to warn you all that there is a cliffhanger and it left me wanting more. I can't wait to read what will happen next and I'm sure the next book will be just as amazing!