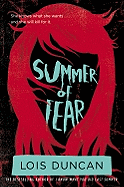 Publisher: Little, Brown, Co.
Age Group: YA
Rating: 5/5
Source: Publisher
Why is Rachel the only one to sense the evil that surrounds Julia?



From the moment Rachel's cousin Julia arrives that summer, she seems to seep into Rachel's life like a poison. Everyone else is enchanted by her--including Rachel's boyfriend. But what does Julia really want?
I remember reading Lois Duncan books when I was little and I would always get terrified. I first read I KNOW WHAT YOU DID LAST SUMMER and then watched the movie and remember being scared, but also wondering what would happen next. Duncan was my first introduction to teen horror books. Summer of Fear just continued that thrill.
Rachel's cousin Julia arrives and everyone immediatly loves her. Rachel feels as though Julia has taken over everyone in her life and Julia is the best person for them in the world and even though no one believes Rachel that there is something up with Julia, she deceides to go and find out herself. She does research on Julia and towards the end of the book, we find out what Julia really is and what her plan is.
Summer of Fear was a fun paced read that I enjoyed so much. Little, Brown and Co. did a reprint of the books with new covers and I think they are just amazing. Lois Duncan is great in writing teen horror novels and I never have become tired of her.
If you're a Lois Duncan fan and haven't read this one yet, I recommend that you do!