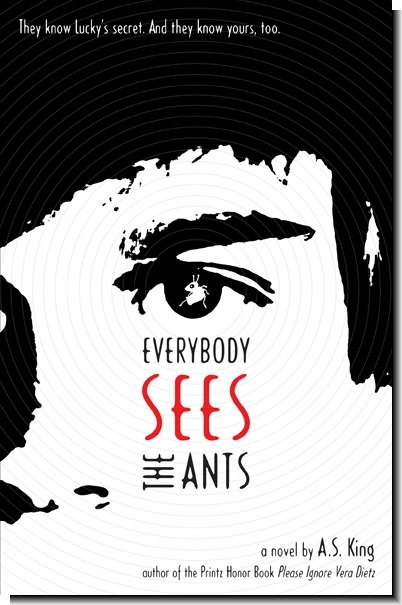 Publisher: Little, Brown and Co.
Age Group: YA
Source: Publisher
Lucky Linderman didn't ask for his life. He didn't ask his grandfather not to come home from the Vietnam War. He didn't ask for a father who never got over it. He didn't ask for a mother who keeps pretending their family is fine. And he certainly didn't ask to be the recipient of Nadar McMillan's relentless bullying, which has finally gone too far.
Lucky has a secret—one that helps him wade through the daily dysfunction of his life. Grandad Harry, trapped in the jungles of Laos, has been visiting Lucky in his dreams—and the dreams just might be real: an alternate reality where he can be whoever he wants to be and his life might still be worth living. But how long can Lucky remain in hiding there before reality forces its way inside?
Printz Honor recipient A. S. King's distinctive, smart, and accessible writing shines in this powerful novel about learning to cope with the shrapnel life throws at you, and then taking a stand against it.
Lucky Linderman is anything by Lucky. He's afraid of Nadar McMillan who bullies him constantly and because Lucky is nowhere near as big as Nadar, there's not much he can do about it. Nadar also has a very powerful lawyer dad so no matter whom Lucky tells about his bullying problem, no one will do naything to Nadar. Then, there's Lucky's parents. I didn't like them at all. They didn't love their son and I felt horrible for Lucky because he now was all alone. He didn't have the comfort of his mother to make him feel better or the manly figure of his dad to show him to stand up. He had nobody.
The only place he escaped the real world was through his dreams where he was in the jungle with his grandfather in Vietnam. Lucky's character and his qualities were very realistic. Teenagers who are being bullied in school often do dream about their safe haven. We all have our safe haven. When we have a bad day whether it be at work or at school, we just want to come home, crawl under our sheets and escape realitly.
EVERYBODY SEES THE ANTS showed how depression runs through someone and even though Lucky didn't have the support from his family to help him get over his problems, he found a way out himself - through his dreams. That shows a lot about how strong Lucky is. He overcame his parents'

inadequacies

and took

a stand for himself. He didn't let himself fall. Even though this book does deal with bullying, it's not heavy in a sense that it'll make you cry. A.S. King did a great job with keeping the balance neutral.
Overall, I enjoyed this book and was glad I discovered a new author with such remarkable talent to take a subject that becoming such a big issue and creating a book that everyone should read, whether they are being bullied or not.