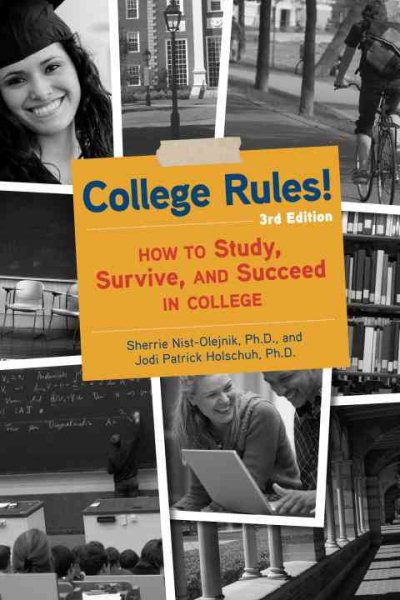 Publisher: Ten Speed Press
Age Group: High School/College Students
Rating: 5/5
Source: Publisher
In high school, students have lots of safety nets. In college, they sink or swim. This completely revised guide to college success educates students in the basic college survival skills that professors don't teach, such as how to study, take tests, balance school and social life, and more. Filled with advice on how to hit the campus running, this fun-spirited crash course in the rules of college provides tools to equip students for a lifetime of learning. A thorough revision of the popular guide to all things college, with three completely new chapters on research papers, theories of learning, and Q&As. Includes helpful sidebars, such as sad-but-true student stories, study tips, and info for nontraditional students, as well as special coaching for struggling students.
Having seven months left of high school, I'm really freaking out about college. I'm already nervous about the whole college apps thing. I tell myself that once I know I'm into the college I want to go to, everything's going to be okay. Until the guidance department hit my entire senior class by letting us know that college is even harder than high school.
But COLLEGE RULES! helps with all the stress. I know that when I go to college, this is going to be another college book I'm going to be carrying around. If you're a senior in high school or freshman in college, this book will help. It's filled with great tips that aren't hard to read at all and fun stories that I enjoyed reading so much.
Since I'm planning on majoring in Computer Science, I'm worried how hard the major's going to be and how will I survive college itself. But COLLEGE RULES! walks you step by step, making you feel as though you can do it and everything will be okay as long as you keep yourself organized and ontop of everything.
I'm so glad this book arrived to me during my "freaking out college moments". It's been helping me a whole lot and I'm sure it will do the same for you.